"Schneider's Eleven" skin for Windows Media Player
I created this skin to be a small, non-distracting music player. It is designed to unobtrusively sit in a corner of the screen, with no eye-catching scrolling text or animated graphics. It always shows the current album, artist, and track name for at-a-glance viewing.
The play control interface is a reduced-size version of the the standard Windows Media Player 11 play control interface (thus the name, "Schneider's Eleven").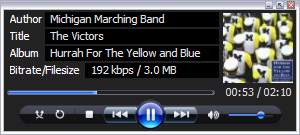 Feature List
Small size: 300px by 135px
Supports audio playback only (no video support)
Displayed at all times for at-a-glance viewing: Author, Track Title, Album, track bitrate, track filesize, track length, track current time index
Available controls: Play/Pause, Previous Track, Next Track, Stop, Mute on/off, Shuffle on/off, Repeat on/off, Track position slider, Volume slider
Displays album art if available, correctly sized/scaled
Designed for Windows Media Player 11; also works with Windows Media Player 10
For full details, view the Readme.txt.
Download
Save the file to your Program Files\Windows Media Player\Skins folder; or choose to open with Windows Media Player when prompted.
Schneider's Eleven.wmz (56k)
Source Code

https://github.com/jschneid/schneiders-eleven
Feedback